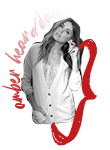 Welcome to Amber Heard Daily, your fan source dedicated to the gorgeous actress Amber Heard. Your may know Amber on her roles in Never Back Down, The Danish Girl, Justice League, Aquaman & many other movies & tv shows. We aim to bring you all the latest updates, pictures, projects & more relating to Amber Heard career.

Follow us on Twitter @amberhearddaily

Current Projects
-

December 2023

Acquaman and the Lost Kingdom Post Production
-

November 2023

In The Fire Post Production

Top rated - September 07 • Out in London with her friend & daughter.